03/16/2023:

Credit Union deposits are safe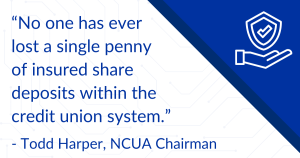 Let us ease your fears: your deposits are safe at Members First Credit Union!
Over the last week, you've likely heard about two failed banks – Silicon Valley Bank in California and Signature Bank in New York. And with these failures you probably have some questions or concerns about your deposits, and we'd like to take a moment to reassure you and answer your questions.
First, as a not-for-profit financial cooperative, Members First Credit Union serves a different customer base than these two institutions. Both banks were closely tied to venture capital (startup) firms and crypto currency. Members First Credit Union serves members in South Texas and our assets are not tied to either of these categories.
Second, Members First Credit Union remains well capitalized and well positioned to continue to serve our members and South Texas communities for years to come. Regulators consider a credit union well capitalized if they have a net worth ratio of 7% or greater; As of the end of 2022, we ended with 20.13%.
Finally, the U.S. banking and Credit Union system is safe and sound. Members First Credit Union is federally insured, and deposits are protected by the National Credit Union Share Insurance Fund. According to a statement from NCUA Chairman Todd Harper, "No one has ever lost a single penny of insured share deposits within the credit union system." Use the Share Insurance Estimator tool or this brochure from the NCUA to help you understand your insurance coverage.
If you have additional questions, please reach out to us. The Members First Credit Union team is here for you and for your financial future.